Apple CEO Tim Cook highlighted the new 'Statue of Liberty' app on Twitter today, telling his 11.3 million followers to 'Try it!'.

The Statue of Liberty app is just the beginning of how AR will transform the way we connect with our world's treasures. Thank you @DVF and @StatueEllisFdn for your work to preserve one of America's greatest, most inspiring symbols.

An article in Vogue provides the back story of how designer Diane von Fürstenberg and her husband Barry Diller raised funds to create the new Statue of Liberty Museum and support projects that take Lady Liberty into the digital age

Behind the AR is Apple, one of the star donors to the DvF project. Responding to her vision to create an experience, the Statue of Liberty Foundation worked with Yap Studios, a small digital development agency, to create the immersive app, which required over a year of scanning and photography. A close-up of Lady Liberty's mighty worn feet sends shivers down the spine, and the focus on the statue, taken from unexpected angles, is designed to enhance the experience.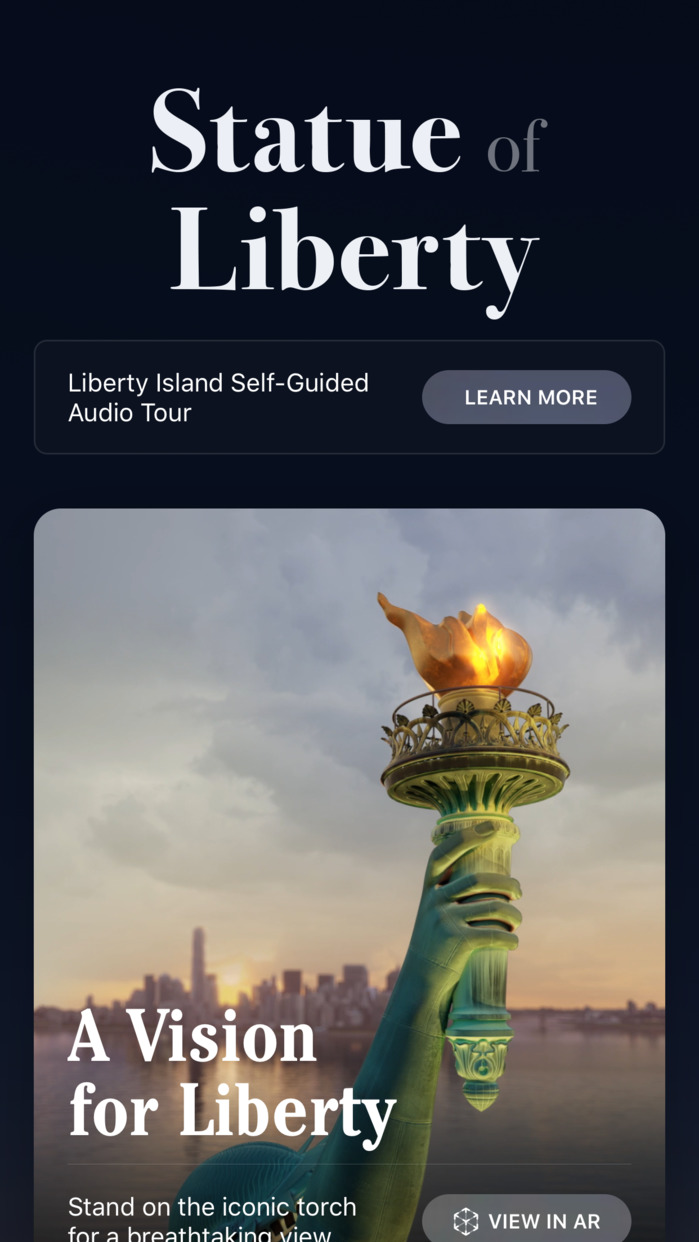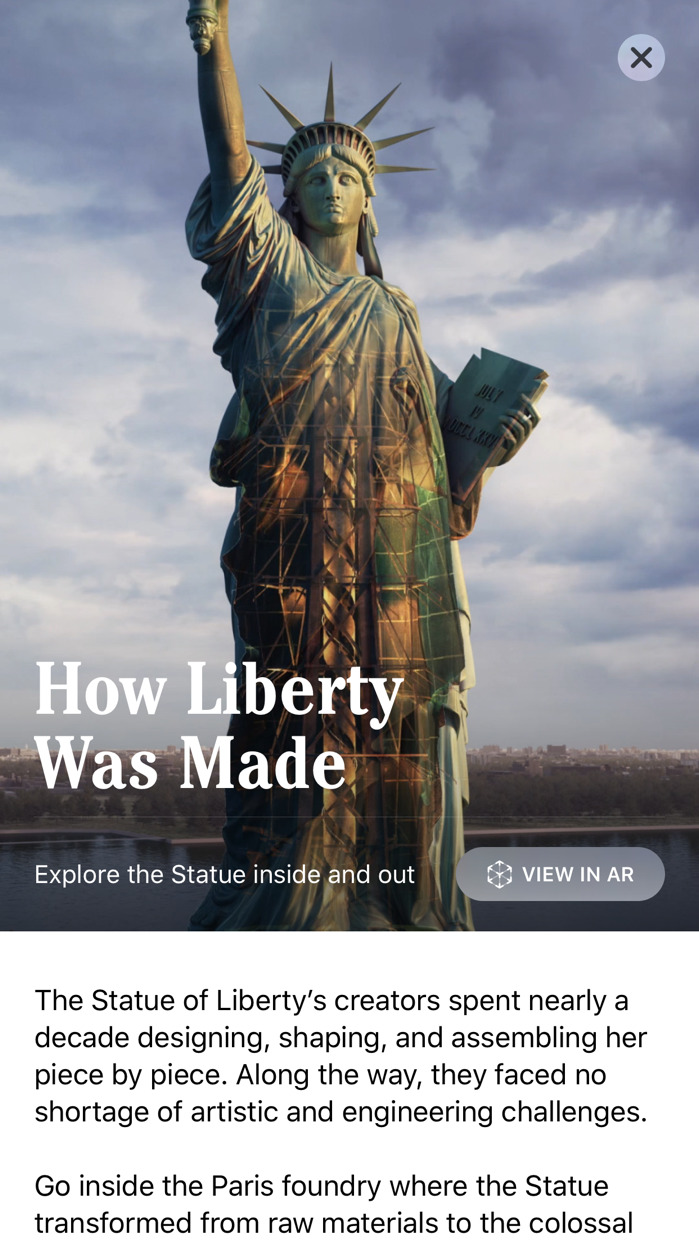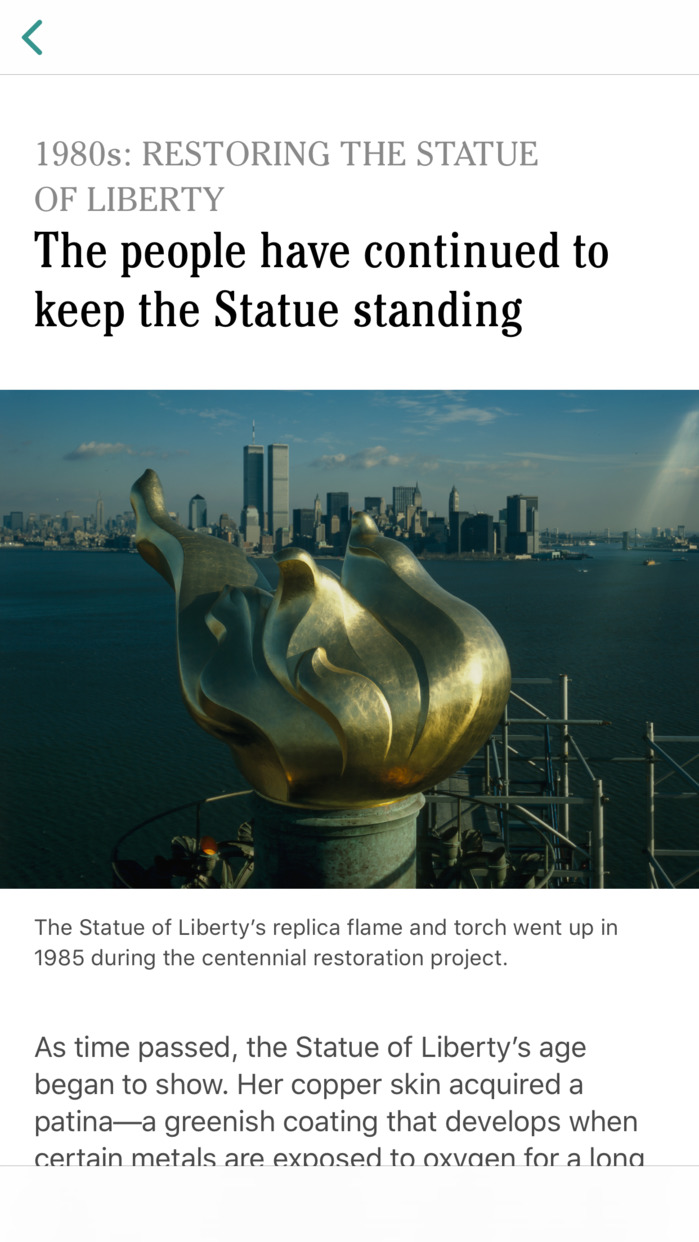 The app features multiple AR experiences that allow you to explore the iconic monument from new perspectives and at new depths. A rich curation of stories and visual media walks you through more than 150 years of the Statue's history — from her origins in France in 1865 to the opening of the new Statue of Liberty Museum in May 2019. The app also features two immersive audio experiences: An exclusive podcast transports listeners to critical moments in the Statue of Liberty's history; and an interactive audio tour guides visitors to 35 points of interest as they explore Liberty Island on foot.
Features:
● Torch Panorama (AR)
Experience a rare view from the Statue of Liberty's torch, wherever you are. This AR experience offers breathtaking views of Liberty Island and the expansive New York Harbor. Watch the New York City skyline as the sun rises and falls. No one has seen this view since 1916, when public access to the torch was shut down.

● Making of Lady Liberty (AR)
Explore the engineering marvel and global symbolism of the Statue of Liberty by placing her right in front of you. Augmented Reality allows you to interact with the most accurate 3D model of the Statue to date. See how the exposure to the elements over time transformed her original copper luster into the iconic green patina we see today. And look inside the Statue to explore Gustave Eiffel's trussed iron tower.

● Life-Size Model (AR)
Study a life-size 3D model of the Statue of Liberty's left foot using Augmented Reality. Place the model in front of you, pinch and zoom in to scale, and marvel at its size.

● Historical Time-lapse (180° Experience)
Watch Manhattan's skyline evolve over the past 200 years through a time-lapse video set from the view point of Lady Liberty's crown.

● Historical and Educational Content
Discover exclusive content curated from the National Park Service archives. Read about the Statue of Liberty's origins and the visionaries and innovators that brought the monument to life. Reflect on how the Statue's meanings changed in times of war and peace, and as new waves of immigrants sailed by. Go behind the scenes of the Statue's restoration and the new museum with the Foundation that has been preserving Lady Liberty's legacy since 1982.

● On-Island Audio Tour with Map and Podcast Mini-series
To complement the launch of the new museum, the Statue of Liberty app provides access to an audio tour and guided map when visiting the island. In addition, a newly released podcast, Raising the Torch, is available for all users to listen whether they're getting ready to visit Liberty Island or exploring from thousands of miles away. This specially produced podcast includes first-person narratives and interviews with historians, who tell the fascinating and winding origin story of the iconic Statue of Liberty.

You can download Statue of Liberty from the App Store for free.

Download