iPhone Juice Pack Extends Battery Life
Posted April 21, 2008 at 9:39am by iClarified · 8247 views
Simply plug in your iPhone to the fully pre-charged Juice Pack and doubles the time to rock, talk, surf and send! The juice pack is a rechargeable lithium polimer battery in the form of a non-slip, soft grip case. It extends the time that you can use your iPhone.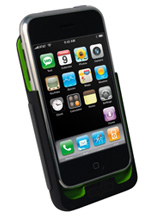 Convenient Holder and Cool Design
Rubber inserts and soft-touch finishes inside out offer comfort grip.
Integrated iPhone holder and rechargeable battery in one cool pack gives your iPhone extra protection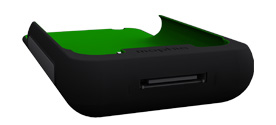 Smart Power Management System
Charging - You could use your iPhone Adaptor or any iPod connector to charge the Juice Pack without your iPhone or with your iPhone simultaneously
Intelligent Power Distribution - Smart Battery Technology instructs the iPhone to always drain out the Juice Pack first. When you're done with Juice Pack, simply detach it and you still have a fully charged iPhone

Powerful and Safe Battery Cell
Safety first - The Juice Pack utilizes a very safe and advanced rechargeable lithium-polymer battery cell. There is a build-in circuit to prevent the Juice Pack from being shorting, over charge and misbehaving under extreme weather conditions.
Hi Energy Cell - The battery cell is highly condensed and is able to store and deliver very high energy in a small and compact package.
4 Light LED Battery Status Indicator
There are 4 light LEDs on the back of the Juice Pack. Simply press the test button and it will tell you how much power is left with the Juice Pack. The LED lights also indicate the charging status and the charging progress.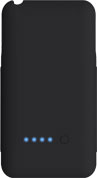 Product Details
* Product Dimensions: 2.5 x 4.75 x .75 inches ; 3 ounces
* Shipping Weight: 1 pounds (View shipping rates and policies)
* Shipping: Currently, item can be shipped only within the U.S.
* Product Category: Cell Phone – External Battery
* Product Compatibility: Apple iPhone
* Product Cost: $99.95
Product Specifications
* Standby Time - Up to additional 250 hours
* Audio Playback - Up to additional 24 hours
* Talk Time - Up to additional 8 hours
* Video Playback - Up to additional 7 hours
* Internet Use - Up to additional 6 hours
Read More