Een lijst met nieuwe features die gevonden zijn in de ontwikkelaars versievan IPhone OS 3.1 welke gemaakt is door The Iphone Blog.
Huidige bekende wijzigingen:
- Orgineel besparende video bewerking geeft je de mogelijkheid om je filmpje te bewerken en dan "opslaan als ..." ipv het origineel te overschrijven.
- Voice control werkt nu ook over bleutooth
- Iphone vibreerd bij verplaatsen iconen
- Update AT&T profiel tot 4.2
- Update modem firmware tot 5.08.01
- Verbeteringen van OpenGL en Quartz
- APIs om andere "third party" software toegang te geven tot je filmpjes en om ze te kunnen bewerken.
Als je nog meer wijzigingen of verbeteringen gevonden heb laat het on weten zo dat we ze kunnen toevoegen aan de lijst
BELANGRIJK: de Baseband updates naar 5.08.01 zal waarschijnlijk in houden dat ultransnOw unlock zal worden tegengehouden. Zo alsjeblieft instaleer niet direct 3.1 zodra hij beschikbaar komt voor het publiek.
Read More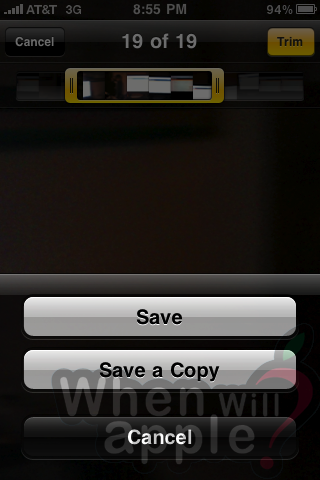 [
via WhenWillApple
]