YouTube Announces Support for 4096p Video
Posted July 9, 2010 at 5:01pm by iClarified · 12391 views
YouTube has announced support for videos shot in 4K (a reference resolution of 4096 x 3072); otherwise known as 4096p.
This resolution is nearly four times the size of 1080p and has an ideal screen size of 25 feet. For some perspective, IMAX movies are projected through two 2k resolution projectors.
To view any video in a source resolution greater than 1080p, select "Original" in the video quality pulldown menu.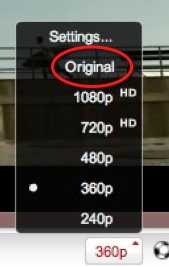 You can view a sample below or check out
this
playlist.
Read More
[
via Fortune
]