SoundBlade One Twenty Two Ships
Posted May 19, 2008 at 11:31am by iClarified · 3771 views
Sonic Studio, LLC, the leader in ultra–fidelity production tools for audio engineers, has begun shipping version 1.2.2 of their flagship professional product, soundBlade. Sonic Studio also announced a new, no–cost version of their Sonic EQ that accompanies this new release. Both products have entered distribution channels worldwide.
soundBlade continues to answer a busy engineer's need for a streamlined, ultra–fidelity alternative to other production tools. soundBlade combines ease of use and exceptional value with features that simplify everyday jobs. Running natively on the secure and user friendly Mac OS X, soundBlade relies on Core Audio for default I/O so hardware lock–in is eliminated. The 1.2.2 release incorporates hundreds of optimizations and stability enhancements.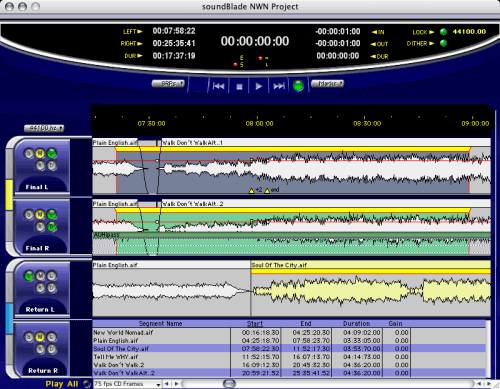 A new twist for Sonic Studio is the release of Sonic EQ le, a free version of their legendary equalization, and a welcome addition to any engineer's audio toolkit. Sonic EQ le is a proprietary implementation of equalizer that includes three different filter types, including a first order parametric, along with first order high and low shelves. Minimal phase topologies ensure inaudible artifacts even for radical settings. Its double precision operators, when used in soundBlade, provide the transparency that Sonic Studio products are known for. In a departure from previous Sonic EQ releases, Sonic EQ le can also be used with any Mac audio product that hosts VST plug–ins.
Combining Sonic Studio's benchmark premastering functionality with the signal processing, restoration and comprehensive editing that discriminating mastering engineers are looking for, soundBlade carries an economical MSRP of $1495. A free update for existing owners, it is available now through Sonic Studio's network of distributors and resellers or as a download from their web site.
Read More