MacBook Pro Box Photo Leaks Specs, New Thunderbolt Port!
Posted February 23, 2011 at 11:06am by iClarified · 22515 views
The specifications for the new MacBook Pro have been leaked via a photo of the 13-inch model box and a photo of ports on the new notebook.
Here are the specifications of the 13" MacBook Pro:
● Core i5 processor dual core 2,3 GHz with 3 Mo of cache
● 4 Go of DDR3 1333 MHz
● Hard Drive 320 GB 5400 rpm
● Glossy 13,33" display 1280x800
● Intel HD Graphics 3000 with 384 Mo of RAM shared with the main memory
● FaceTime HD video camera
● Superdrive 8x
● Thunderbolt port compatible with I/O peripherals and high speed Mini Displayport
● SDXC card reader, one Firewire 800 and two USB 2.0
● Numeric audio out
● Integrated Ethernet
● Backlit keyboard
● Dimensions and weight: 32,5x22,7x2,41 cm; 2,04 kg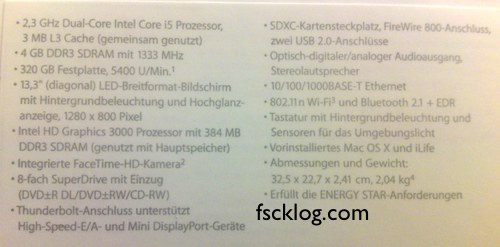 The new Thunderbolt port is one with the Mini Displayport. You can see the new logo for thunderbolt and the thunderbolt markings next to the port in the images below.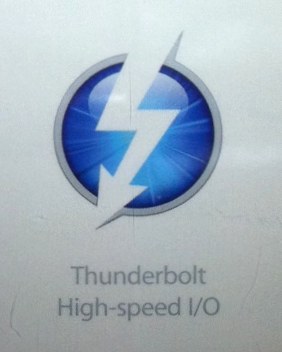 Remember these are specifications for the low end MacBook Pro. The 15-inch and 17-inch models could have more surprises in store.
[
fscklog
] [
Hardmac
]