Ohanaware Releases Funtastic Photos 1.0.1
Posted October 15, 2008 at 11:28pm by iClarified · 5187 views
Ohanaware, a company specializing in photo editing software announced the immediate availability of an update to their flagship product "Funtastic Photos". Funtastic Photos is an Easy To Use Evolutionary Photo Editor for the Macintosh platform. This update (free to existing customer) features over 63 improvements to Funtastic Photos and illustrates Ohanaware's commitment to making Funtastic Photos one of the best Photo Editors available for the Macintosh platform.
Funtastic Photos 1.0.1 is a feature packed release that greatly improves Funtastic Photos in three key areas. The first area is Performance. Many enhancements have been made to increase Funtastic Photos' speed for various functions. Funtastic Photos now starts up quicker, loads images quicker and effects take less time to update. These improvements make it quicker to use Funtastic Photos and accomplish more in less time. The next key area is More. More options have been provided allowing greater creativity when enhancing photos, more 1-Click Styles, giving a wider choice in easy editing, a couple more borders were added and lastly some new features and modifications to improve the sharing experience. The last key area is reliability. Time has been dedicated to solving bugs that were found with 1.0. A new testing method was introduced and proved to be a big success in locating and fixing bugs. Funtastic Photos 1.0.1 is a real solid improvement over an already impressive photo editor. The original promotional offer of $34.99 has been so successful that Ohanaware is continuing the promotion until the 1st December 2008, so if you don't already have a copy we would recommend that take advantage of this offer. Funtastic Photos 1.0.1 is a FREE update to all our existing Funtastic Photos customers. This new release can be downloaded from Ohanaware at http://www.ohanaware.com/funtasticphotos/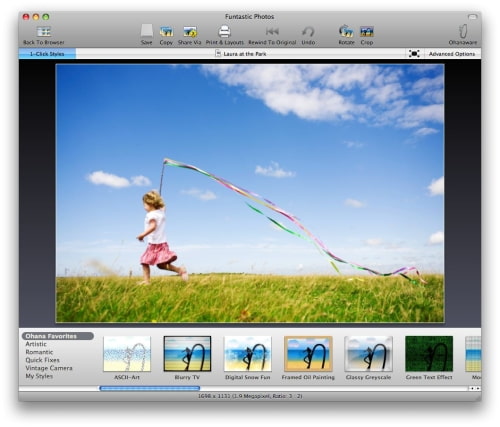 :: About Funtastic Photos ::
Funtastic Photos is Ohanaware's amazingly easy to use photo editor for Apple Macintosh computers. Funtastic Photos features some of the most advanced photo editing technologies, such as Non-destructive Photo Editing. This amazing technology allows non-permenant manipulations to made to a photo, these changes can then be altered or removed at any time. The edited photo can easily be 'rewound' back to its original state, regardless when or how much editing has taken place. Funtastic Photos makes photo editing so simple with 1-Click Styles, a single click can fix problems and enhance the photo in ways never imagined. Funtastic Photos ships with 40+ 1-Click Styles which provide some original, unique and cool photo effects. Printing photos at home will never be the same. Funtastic Photos offers a range of inspiring layout designs, including amazing picture collages (or photo mosaics to some), addictive photo cubes and simple greetings cards. Funtastic Photos is a combined Photo Editor and Photo Sharing tool. Having the Photo Sharing built-in to Funtastic Photos makes it real easy to quickly edit a photo and share it online using e-mail, attractive Fun Cards, and direct uploads to the most popular photo sharing sites such as Facebook, Picasa Web Albums, MobileMe & Flickr. A trial version of Funtastic Photos can be downloaded from Ohanware at
http://www.ohanaware.com/funtasticphotos/

:: Pricing and Availability ::
Funtastic Photos 1.0.1 is available today for the promotional price of $34.99 USD (RRP $49.99). A free unlimited trial can be downloaded from Ohanaware's web site, during the trial Funtastic Photos will watermark any exported or shared photos. Ohanaware provides a wallet friendly family pack, up to 5 people can install and use Funtastic Photos, for the great price of $70 USD (RRP $99.99).** Funtastic Photos 1.0.1 is a FREE update to all our existing Funtastic Photos customers.
For more information or to download a free trial version, please visit.
http://www.ohanaware.com/funtasticphotos/