Leaked iPad Air 2 Logic Board Reveals A8X Chip, 2GB of RAM, 16GB of Storage? [Photo]
Posted October 13, 2014 at 6:35pm by iClarified · 15606 views
A newly leaked photo of an alleged iPad Air 2 logic board reveals an A8X processor and what appears to be 2GB of RAM.
The photo was posted by Apple.com.tw. In it you can clearly see A8X markings on the processor. Also, looking at the markings on the ELPIDA RAM chip, it appears as though the second character is an 'A' indicating 2GB. Markings for a 1GB chip have an '8' as the second character.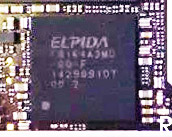 This week the debut of iPad Air 2 in the end is  A8 or  A8X?
QQ space from newly published this picture tells us is indeed " A8X"
There is also seen 2GB ram chips ELPIDA this case confirms exactly this will be released on October 16 the most important highlight is " A8X + 2GB ram"
In addition to both the A8X and 2GB chip, the logic board depicts an 16GB flash module. It's unclear if Apple will choose the same 16GB, 64GB, and 128GB configurations as it used for the iPhone 6; however, we shouldn't have to wait long to find out. Apple is expected to unveil the new iPad Air 2 on
October 16th
.
Please follow iClarified on
Twitter
,
Facebook
,
Google+
, or
RSS
for updates.
Read More
[
via MacRumors
]