Alongside the launch of an HBO NOW streaming channel for the Apple TV, a new app for iOS brings the video streaming service to mobile devices for the first time.

HBO NOW is the new standalone streaming service from HBO, requiring only the internet to get every episode of every season of Game of Thrones, True Detective, The Jinx, Girls, The Sopranos, The Wire and so many more series, as well as exclusive movies.

A limited time 30-day introductory free trial (then $14.99/month) is available through the app.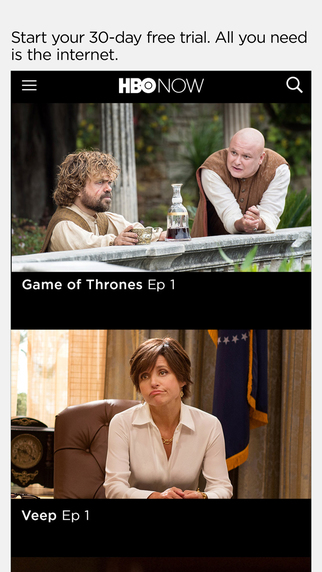 How do I watch?
1. Download the HBO NOW app.
2. Subscribe via an in-app purchase using your Apple ID, or log in with credentials provided when subscribing through a participating broadband provider.
3. Create your HBO NOW profile and stream on iOS devices—iPad, iPhone, iPod Touch and Apple TV—or on the web at HBONOW.com.

What programming is included?
• More than 2,000 titles, including all seasons of critically acclaimed current series: Game of Thrones, True Detective, Silicon Valley, Girls, Veep and The Leftovers

• Highly-anticipated new, upcoming original programs: HBO Films' Bessie, starring Queen Latifah; Ballers, the comedy starring Dwayne Johnson; The Brink, the comedy starring Jack Black and Tim Robbins; and Westworld, the drama starring Anthony Hopkins and Ed Harris

• The latest hit movies, including: X-Men: Days of Future Past and Godzilla in April; Dawn of the Planet of the Apes and This is Where I Leave You in May; and Gone Girl and The Judge in June

• Weekly installments of Last Week Tonight with John Oliver, Real Time with Bill Maher and VICE

• HBO Sports documentaries, series and World Championship Boxing events

• Groundbreaking documentary programming such as Going Clear: Scientology and the Prison of Belief, The Jinx: The Life and Deaths of Robert Durst and Oscar-winner Citizenfour

• The best original series and miniseries from yesterday: The Sopranos, Sex and the City, The Wire, Entourage, Band of Brothers, True Blood, The Pacific, Deadwood and more

What's the difference between HBO GO and HBO NOW?
HBO GO is HBO's authenticated online streaming service, available at no additional cost to HBO subscribers through their participating television provider. HBO NOW is a new, standalone online streaming service that is available to all customers with a high-speed internet connection.

HBO NOW is only accessible in the U.S. and certain U.S. territories where a high-speed broadband connection is available. Minimum 3G connection is required for viewing on mobile devices.

You can download HBO NOW from the App Store for free.

Read More