August has unveiled a new Smart Lock, Smart Lock Pro, and Doorbell Cam Pro.

August Home Access Products The August Smart Lock Pro and August Smart Lock replace only the interior side of most standard deadbolts; the exterior door hardware (lock) stays the same, which means consumers can use a traditional key at any time. Together with the August Doorbell Cam Pro and August Smart Keypad, these products complete the family of August Home Access Products, giving users total control over the front door.




• August Smart Lock Pro
Bundling the August Smart Lock Pro with August Connect Wi-Fi Bridge allows consumers to control and monitor their door remotely with a smartphone. The lock also includes powerful integrations that expand its capabilities including Amazon Alexa, Apple HomeKit/Siri, the Google Assistant as well as Z-Wave Plus compatibility for direct integration with popular alarm and control systems.

In addition to identifying if the door is open or closed, August's proprietary DoorSense technology also powers the next generation of Auto-Lock. Previous August Smart Locks could automatically lock after a set time, with DoorSense, the door lock can be set to instantly lock when the door is closed. This eliminates the vulnerability of forgetting to lock the door when entering and exiting the home.

August Smart Lock Pro also includes Active Monitoring, a Beta of "smarter alerts" for the events that are most important to users. At launch, this will include all alerts for activity at the door including a DoorSense alert notifying the user if their door is left ajar for a set amount of time. New alerts notifying the users about specific activities that happen during a set timeframe, such as kids arriving home from school between 2:00-5:00pm on weekdays will be added shortly.




• August Smart Lock
The new August Smart Lock leverages August's third generation technology and features a new industrial design with a traditional thumb turn to lock and unlock the door. The lock also includes DoorSense, allowing users to confirm the door is closed and locked. Additionally, consumers can add August Connect Wi-Fi Bridge to remotely control the lock or use voice control with Amazon Alexa and the Google Assistant.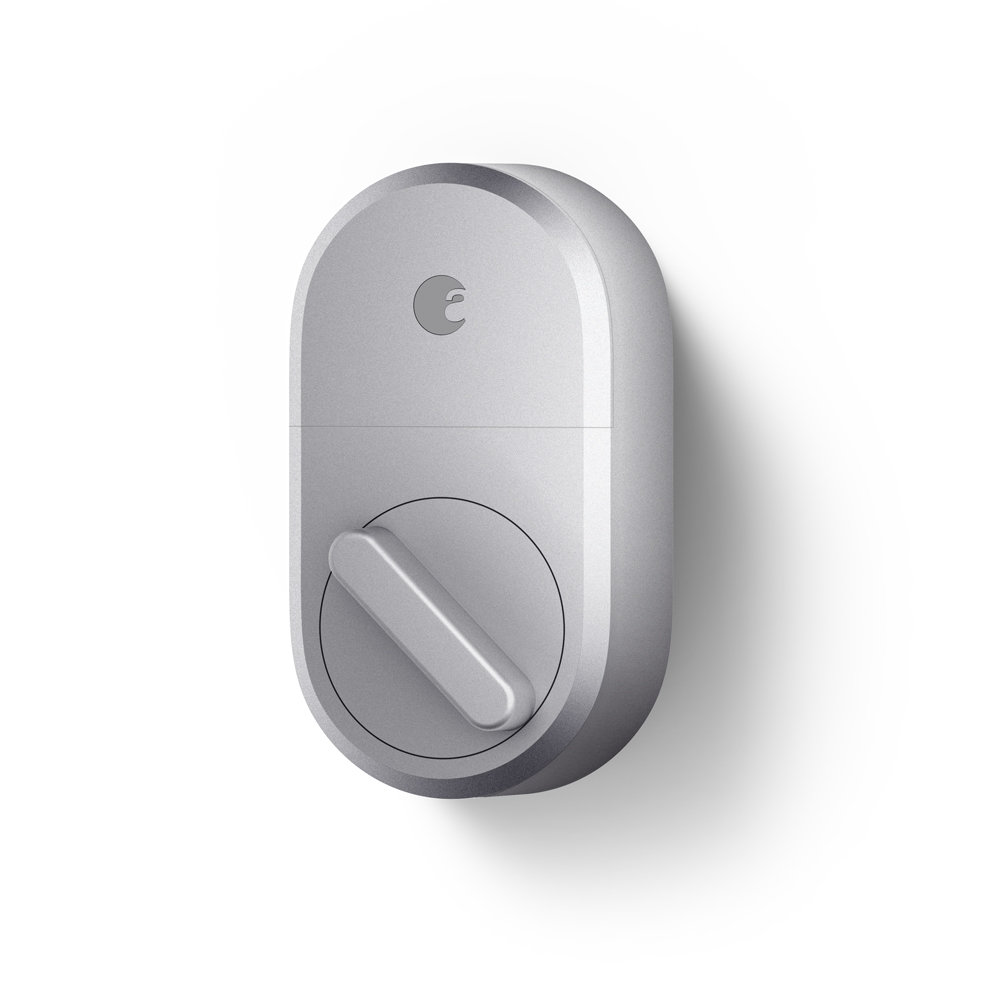 • August Doorbell Cam Pro
With Au ust Doorbell Cam Pro, users know who's at the door, even when they' re not home. Motion detection triggers alerts whenever something is happening at the front door. In addition to the integrated flood light, Doorbell Cam Pro includes a new feature
called HindSight.

HindSight makes video recording more meaningful by adding a few extra seconds to the beginning of video to a recording, even before motion is detected. This ensures that the recording includes the entire motion event, rather than seeing a person walking away, for example. August Video Recording lets users replay, download and share recordings of activity at their door — visitors who ring — visitors who the doorbell and any motion or missed visitor — all from the August app.

The Doorbell Cam Pro features improved video quality for crisper video recording, especially for motion events. It is easy to install and replaces an existing doorbell-button. The new Doorbell Cam Pro also includes a USB dock for easy set-up prior to installation and mounting.
Control Over the Front Door From a Smartphone

The August Smart Lock Pro and the new August Smart Lock both turn a smartphone into a smart key where consumers can lock/unlock their door, enter hands-free, lock the door automatically with Auto-Unlock/Auto-Lock, create virtual keys for guests, and keep track of who comes and goes with a 24/7 Activity Feed




Pricing and Availability
August Smart Lock Pro (bundled with August Connect Wi-Fi Bridge), priced at $279, and August Smart Lock, priced at $149, are available immediately in silver and dark gray. August Doorbell Cam Pro, priced at $199, is available for pre-orders and will begin shipping October 10, 2017.

Read More