Tropico, the popular construction and management game is now available on iPhone.

All hail El Presidente! The proud nation of Tropico is now in your hands and badly in need of modernisation! As the freshly elected leader of an underdeveloped Caribbean island with untapped resources and enormous potential, hopes are high that you will deliver Tropico into the glorious future its people deserve. The opportunities are boundless in this humorous city-builder with a political twist.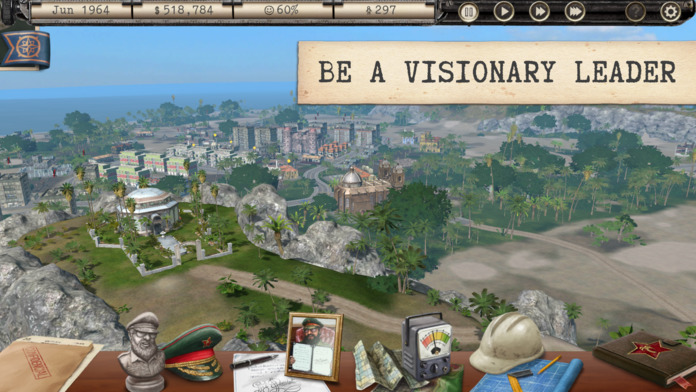 FEATURES:
● YOU RULE! Develop and manage every aspect of Tropico, from its roads, buildings and people, to its military, trade and foreign policies.
● BE A VISIONARY LEADER: Transform Tropico into the country you want it to be: a booming tourist paradise, an industrial powerhouse, a police state, or all three!
● PLAY POLITICS: Recount elections, calm unruly elements, manage public opinion and reward your loyal followers…
● BUILT FOR iOS: Exercise complete control with an intuitive touch interface and gameplay mechanics designed and refined for mobile gaming.
● BUY ONCE, RULE FOREVER: Get the keys to power with one simple payment and no in-app purchases.




This game requires iOS 12 and just under 3GB of space to install.

Supported iPads:
• iPad mini (5th generation, 2019)
• iPad Air (3rd generation, 2019)
• iPad (5th generation, 2017)
• iPad (6th generation, 2018)
• iPad Pro (1st generation: 9.7", 12.9")
• iPad Pro (2nd generation: 10.5", 12.9")
• iPad Pro (3rd generation: 11", 12.9")

Supported iPhones:
• iPhone SE
• iPhone 6S/6S Plus
• iPhone 7/7 Plus
• iPhone 8/8 Plus
• iPhone X
• iPhone XS/XS Max
• iPhone XR




What's New In This Version:
• Adds support for the iPhone 6S and later (see description for full list of supported iPhones)
• Adds iPhone-specific UI and the ability to minimise certain panels
• Players can now closely monitor up to 12 citizens using El Presidente's Watchlist
• Adds Screenshot Mode, allowing players to hide the UI
• Fixes a number of minor issues

You can purchase Tropico from the App Store for $11.99.

Read More