Feral Interactive has announced the release of ROME: Total War - Barbarian Invasion for iPhone.

Menaced by Barbarian hordes, the Roman Empire faces a day of reckoning. As one of 18 factions, take up arms to defend Rome, or spearhead its destruction.

Newly supported devices include the iPhone 5S, 6/6 Plus, 6S/6S Plus, SE, 7/7 Plus, 8/8 Plus, X, XS/XS Max, XR and the iPod Touch 6G.




What's New In This Version:
• Adds support for the iPhone 5S and later (see description for full list of supported iPhones)
• Unlocks 8 more playable factions for a total of 18
• Adds a range marker feature that shows the firing distance of missile units
• Increased zoom-out level on Battle map
• Increased zoom-in level on Campaign map
• Improved Faction Summary screen provides at-a-glance information on your faction
• Improved Character Details screen exposes previously hidden stats and retinue effects
• Battle UI can be hidden, allowing greater control over unit paths and formations (tap with two fingers to hide/display UI)
• First Time Help system; help appears automatically whenever you access a new screen or attempt a new action (can be enabled/disabled via in-game options)
• Improved general help system; tap and hold on units and UI elements to see more information
• Adds an in-game manual for hints and tips on Campaign and Battle play
• Track your progress in Historical Battles; receive bronze, silver or gold ratings depending on what difficulty you completed the battle
• Adds an Auto-Merge Units option to merge depleted units in armies or fleets
• Device battery level now visible on the Campaign Map
• Adds colour-coded tooltips in Battle mode to easily see positive or negative unit condition
• Improved Battle status info; status info can be toggled to appear above each unit, and shows unit alignment (friendly/hostile), unit type, health, current orders, morale and ammo, along with their current path
• Adds tap-to-move controls with improved pathfinding for multi-turn journeys
• Adds Manual Camera Tilt mode - drag with two fingers to tilt the camera (can be enabled/disabled via in-game options)
• (iPhone only) Card bar can be expanded to display larger unit and building cards (can be triggered manually or set to expand automatically via in-game options)
• (iPhone only) Scrolling tooltip ticker; key information scrolls along the panel at the top of the screen
• (iPhone only) Retinue lists; easily track which followers are attached to which characters
• Optimises graphics and UI for the iPad Pro (11", 3rd generation)
• Uses the Metal graphics API instead of OpenGL
• Fixes a number of minor issues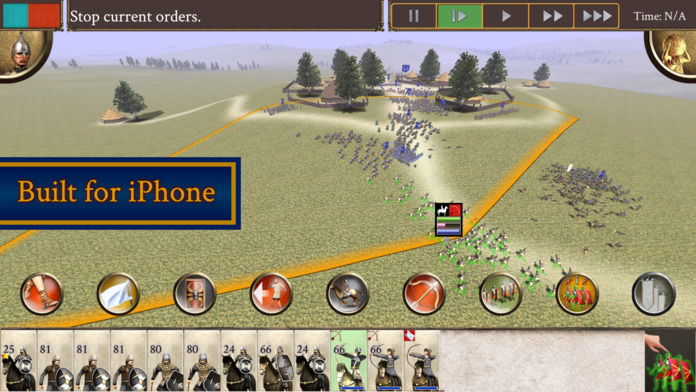 You can purchase ROME: Total War - BI from the App Store for $4.99.

Read More