A recent Apple patent application reveals the company is working on a new glass enclosure that would surround an entire electronic device and turn all six sides into a touchscreen display.

The patent is entitled "ELECTRONIC DEVICE WITH GLASS ENCLOSURE" and lists Christopher D. Prest and Peter N. Russell-Clarke as inventors.

Apple says that each side of the enclosure could have different graphical outputs.

For example, FIG. 1A shows a first graphical output being displayed through the first major side 104, a second graphical output being displayed through the first peripheral side 108, and a third graphical output being displayed through the fourth peripheral side 114. As shown, the first graphical output may be a main page of a graphical user interface (GUI) of the device 100, which may display multiple icons 117 that a user may select to launch applications, programs, or the like. The second graphical output is shown displaying other information, in this case a region or window 124 showing updates on stock prices, and a region or window 125 showing weather data. The third graphical output includes affordances that may control device functions, such as speaker volume affordances 130, a WiFi affordance 131, and an "airplane mode" affordance 127.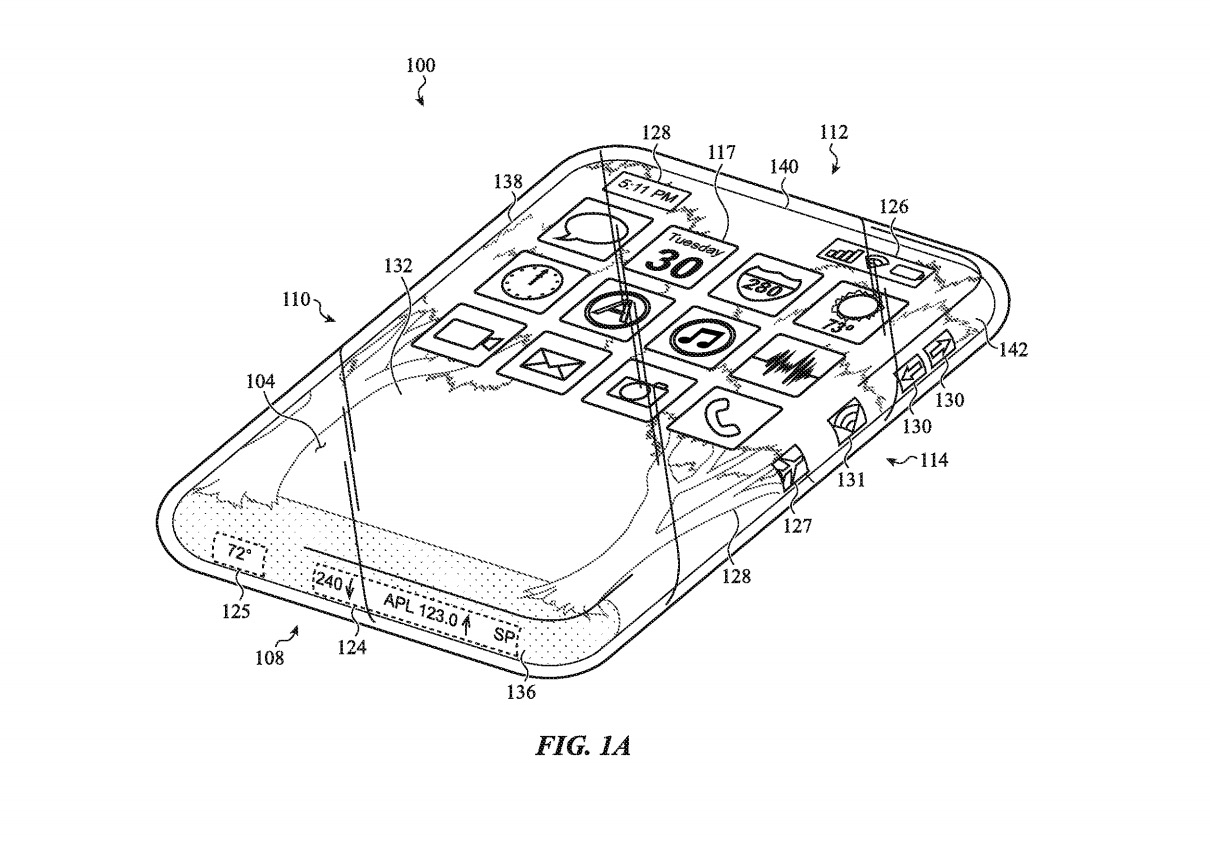 These 'affordances' could control device functions and also provide information about the status of the device. For example, Apple says the WiFi affordance could let users activate or deactivate the wireless radio and also have a color that indicates its status. ie blue for active and yellow for inactive.

Apple suggests that continuity between display regions could be enhanced by a wrapping wallpaper. For example, a single, continuous background image may extend across two, three, four, five, or all six of the sides of the device.

The single background image in FIGS. 1A-1B includes a tree 128 that extends across multiple display regions. More particularly, the tree 128 extends from the first major side 104, over the fourth peripheral side 114, and onto the second major side 106 (FIG. 1B). Other aspects or displayed items of the background image may extend across other sides, and indeed a single, seamless image may be presented that extends over multiple sides of the device.

More details in the full patent filing linked below...

Read More