Apple to Ship iPhone 12 With Braided USB-C to Lightning Cable?
Posted July 14, 2020 at 8:25pm by iClarified · 5992 views
Apple may be planning to ship its upcoming iPhone 12 models with a new braided USB-C to Lightning cable. The alleged cable
was leaked
by chongdiantou.com and confirmed by leaker
@L0vetodream
.
Apple already makes a
black braided USB-C to Lightning cable
but it only comes with the purchase of the new Mac Pro.
The white cable pictured below features eight silver contacts that are said to be made of rhodium-plated ruthenium which is more durable than gold contacts, preventing corrosion. Unlike the official black cable, the leaked design doesn't appear to offer any strain relief at the connector ends.
Tests results purportedly confirm an Apple MFi certified original terminal...
-----
Use the POWER-Z MF001 MFi tester to read the internal information of the Lightning terminal. From the screen, you can see that the wire ASIC and PMU are original, the terminal model is C94, and the score reaches 100 points. It is an Apple MFi certified original terminal.
The length of the wire is measured by a tape measure. The end-to-end length is 1.05 meters, which is close to the length of the wire used in the previous iPhone, suitable for daily use. The micrometer measures the diameter of the wire, with a diameter of 3.04mm, which is a little thicker than the C94 fast charge cable presented by the iPhone 11 before.
What is the charging performance of the wire? The editor uses an Apple 96W PD charger to charge the iPhone 11 Pro Max with a power of 8.98V 2.52A 22.68W, which reaches the maximum power of the iPhone 11 Pro Max.
In addition to providing fast PD charging for the iPhone, the iPad is also okay. The test charging power for the iPad Air3 reached 15.02V 2.17A 32.72W, which reached the maximum power of the iPad Air3.
-----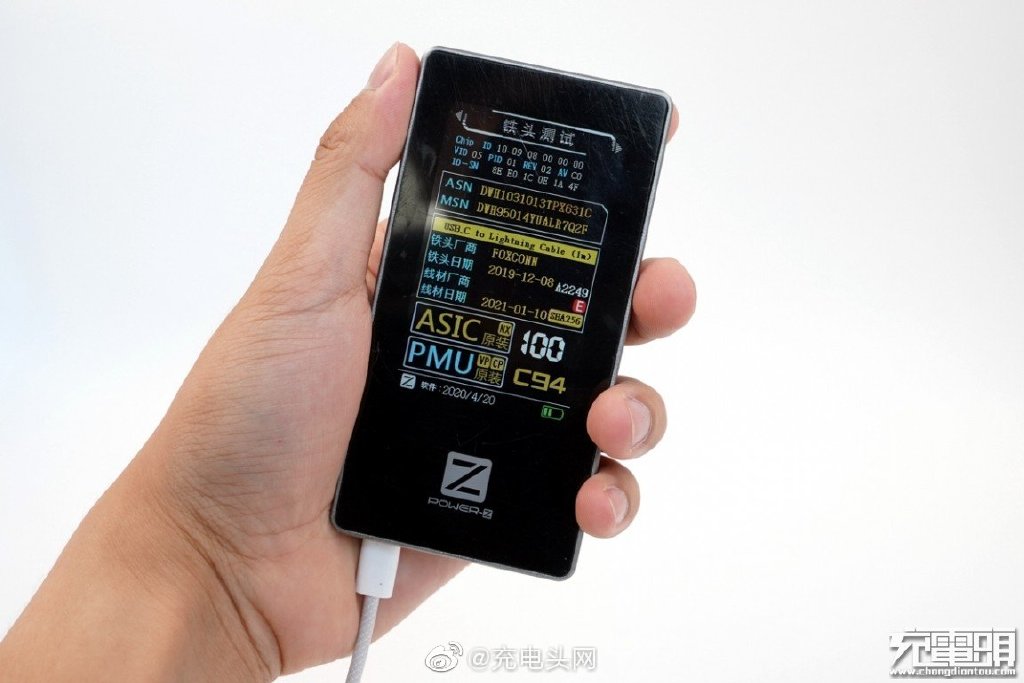 It's been widely rumored that Apple plans on selling its next generation iPhones
without EarPods or a power adapter
in the box; however, this is the first report of a new design for the Lightning cable. Please
download the iClarified app
or follow iClarified on
Twitter
,
Facebook
,
YouTube
, and
RSS
for updates.