Microsoft has announced a major redesign of Outlook for Mac.

With the new Outlook for Mac, we have reimagined the experience that you know and love, bringing even more power and simplicity to the product. Re-designed from ground up and available via a toggle – the new Outlook for Mac connects to accounts using Microsoft sync technology for enhanced performance and reliability, with functionality that showcases the best of Outlook.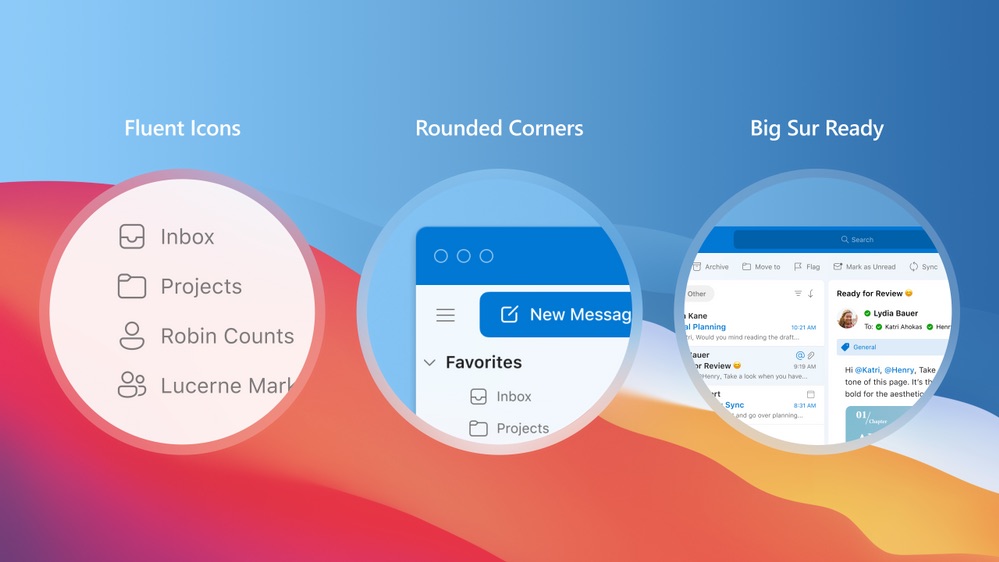 Microsoft says it tried to make Outlook feel native to macOS.

"The new Outlook for Mac has been crafted specifically for the Mac, including the latest macOS Big Sur. You will find rounded corners in the buttons, message list, and conversation pane that are influenced by Big Sur. The light, airy design utilizes white surfaces for increased contrast on text and icons. This helps Outlook feels natural on the OS while still nesting well with elements from Microsoft's design language. We wanted you to feel at home while using Outlook for Mac without sacrificing what makes Outlook, well, Outlook."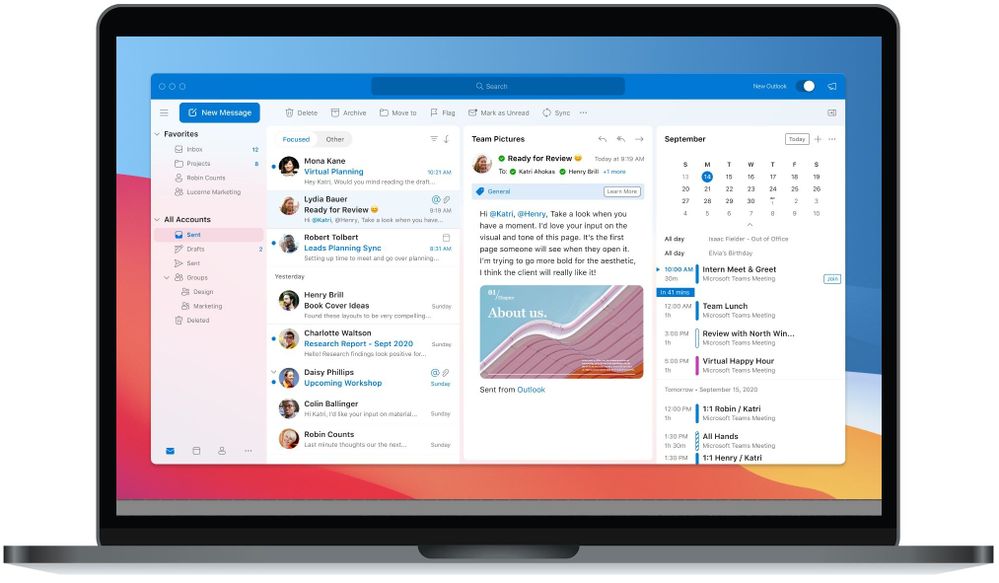 New features include:
● Customizable toolbar: Choose commands to display in the Toolbar. In the Toolbar, select the more icon More options , then Customize Toolbar… .
● Improved search: Search is now powered by Microsoft Search and has better results and suggestions. Click in the search field or use keyboard shortcut Shift+Command+F to search.
● My Day: View upcoming events in agenda or day view in the main window for mail. Select My Day in the View menu or use keyboard shortcut Shift+Command+] to turn My Day on or off.
● Improved RSVP to meetings: Respond to meeting invites with email responses to the organizer directly from the Reading Pane. Type a message in the text field in the meeting invite and select Accept, Tentative, Decline, or Propose New Time.
● More Office 365 Groups, including Calendars: View all your Office 365 Groups in Mail and Calendar view. In Mail, Groups are located under the Groups node for your account. In Calendar, Groups are located after calendar folders for your account.
● Nested compose in the Reading Pane: Reply to messages without opening a new compose window. Select Reply, Reply All, or Forward in the Reading Pane, Toolbar, or Message menu or use keyboard shortcuts Command+R, Shift+Command+R, or Command+J.
● Ignore Conversation: Delete all messages in a conversation, including messages already received and any new messages. Select Ignore Conversation in the Toolbar, Message menu, or message context menu, then confirm that you want to ignore the conversation.
● Improved event scheduling: Create events by selecting a time block in the calendar grid. Add event details, including attendees and locations, and view attendee availability directly in the popover before sending. When creating a new meeting, view attendee availability directly in the event window and adjust the time of the event by moving the event within the day view. For meetings with large numbers of attendees, use the Scheduling Assistant to view availability, add and remove attendees, and reserve resources (such as conference rooms).

The new Outlook for Mac will be available to all users next month. Please download the iClarified app or follow iClarified on Twitter, Facebook, YouTube, and RSS for updates.

Read More