Airport Express with 802.11n Coming Soon ?
Posted March 15, 2008 at 6:42pm by iClarified · 5288 views
Apple may be releasing a new Airport Express with 802.11n wireless capabilities in the near future!
MacGeneration noticed a prematurely updated description at the Swiss Apple Store that describes 802.11n wireless networking capabilities.
It is possible that the new Airport Express will be in stores as early as next week. Watch the Tuesday update carefully!
The AirPort Express with AirTunes is an incredible wireless product that allows you to play iTunes music over your wireless network to your home stereo or powered speakers. It also allows you to share both a broadband Internet connection for up to 10 users and a USB printer.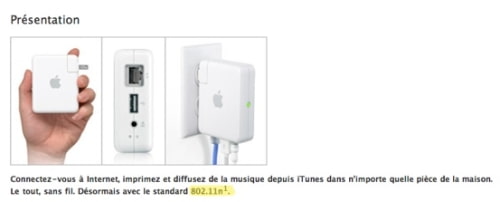 Read More