Evernote has launched Reminders combining its three most requested features: In-app and email Alarms, Quick note based to-do lists, and Pinning notes to the top of your note list.

How Reminders Work
You can add a Reminder to a note by simply tapping on the alarm clock icon located at the top of the note on Mac and Web, and at the bottom of the note on iPhone and iPad. If you like, set a date and time for when this note must be completed.

You'll get an in-app alarm and, optionally, an email the day that a Reminder is due. Once set, you'll see the note title appear in the new Reminder section at the top of the note list. You can change the order of Reminders simply by dragging them around. When you complete your task, tap on the check or, on iOS, swipe to remove the Reminder from the list.




Reminders and Notebooks
Reminders are notebook-based. Whenever you add a Reminder to a note, it will appear in the Reminder section within that notebook. This is a perfect way to keep various projects separated. Of course, if you want to see them all in one place, simply go to the All Notes view.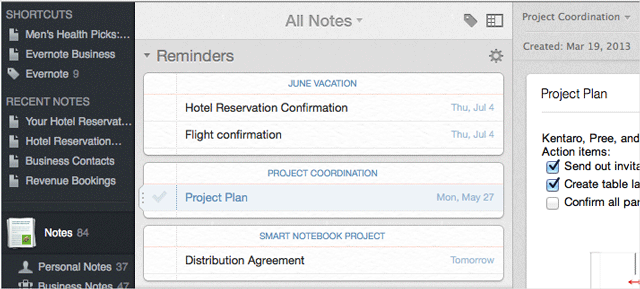 Shared Reminders
Associating Reminders with notebooks enables some useful features. First, since Reminders show up at the top of a given notebook, they can be used as a handy way to highlight the most important notes in that notebook—like a quick table of contents for your visitors. In addition, anyone who has access to your notebook is able to subscribe to be notified when notes come due. This way the entire team will stay informed about group projects and tasks.

Check out the video below for more details. The apps haven't been updated yet but we will let you know as soon as they are. You can follow iClarified on Twitter, Facebook, Google+, or RSS.