The Nifty XOO Belt is a simple solution to the everyday problem of low smartphone battery life.

The XOO Belt looks, feels, and weighs about the same as a really nice belt but comes with a 2,100mAh of hidden charge which can charge pretty much any device. Designed with a new breed of Lithium Ceramic Polymer flexible battery it's also ultra safe, weather-resistant and prepared to take a beating.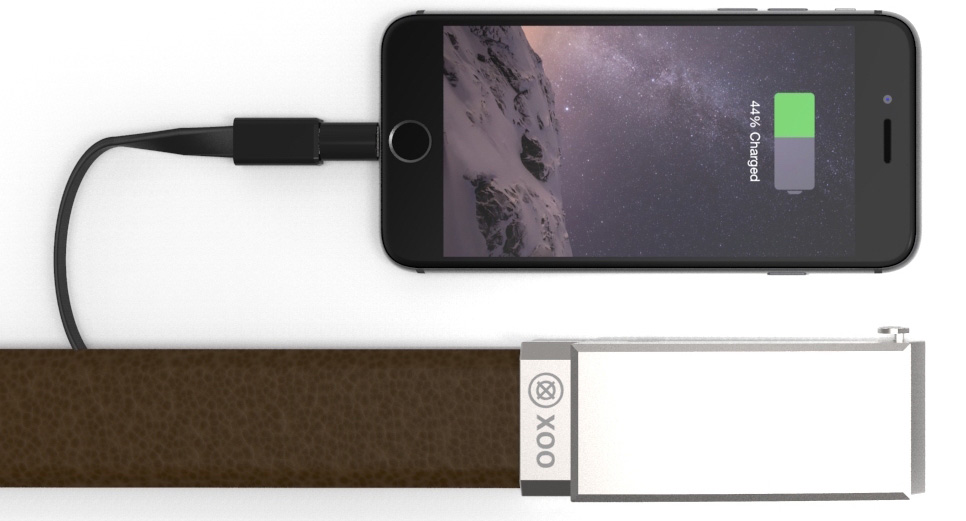 HOW IT WORKS:
The charging wire is magnetically (and invisibly) nestled against the inside of the belt when not in use. Flick down to reveal, plug it in and pop your phone in your pocket—then carry on about your day. Unplug and flick back up when you're done.

● POCKET-CHARGING // You keep your phone in your pocket so that's where we charge it.

● TOP-UP-AS-YOU-GO // Power-up in the background as you go about your day.

● WHEREVER, WHENEVER // Office, bar, train or half way up a mountain. If you're wearing trousers it's there when you want it.

● NOTHING TO SHOUT ABOUT // No complicated set-up or strange bulges. Just a simple wire that hides away.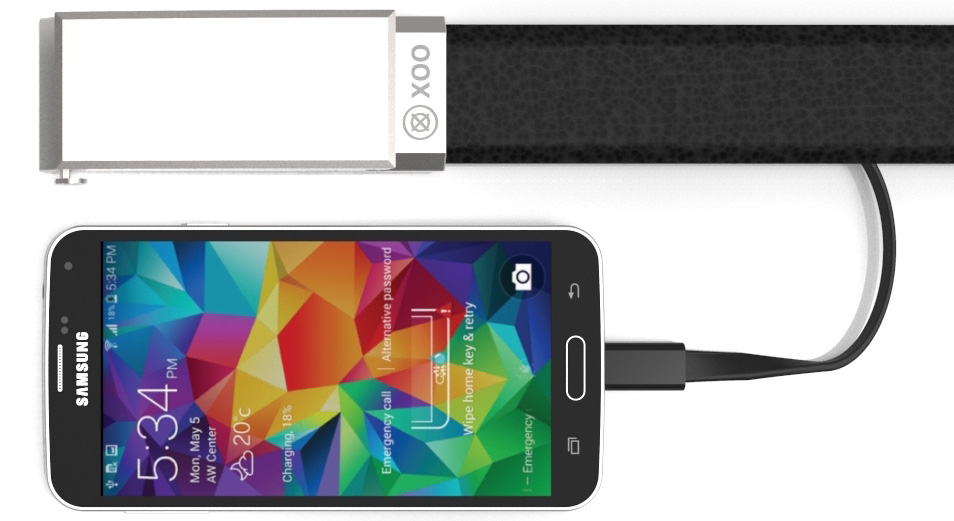 THE BATTERY:
There are six overlapping layers of cutting-edge flexible battery within each belt, giving a base power of 1,300mAh of charge. Add this to the 800mAh in each buckle—for a total of 2,100mAh—and you've enough to fully charge an iPhone 6 with some left over.

● YOU WON'T KNOW IT'S THERE // The battery is expertly sandwiched between the belt leather at manufacture. Completely invisible.

● SAFETY FIRST // Made of Lithium Ceramic Polymer our batteries are non-reactive: poke them, cut them or drop them and you'll still be safe.

● NO HANGING AROUND // Transfers its full charge in around 3 hours. Another 3 hours to recharge.

● UNIVERSAL CHARGING // Ships with a low-profile microUSB-to-USB charging cable, suitable for most devices. Add a Lightning adaptor for all your iOS needs.





AVAILABILITY:
It's estimated that the belt will ship to backers on July. Currently the project has raised $28,814USD
raised of its $50,000 goal. You can pledge $155 to get one of the first belts at the link below. Take a look at the videos for more details...

Read More